EU-Projects > Female vote matters
In the context of Advocate Europe/CDM, Female Fellows was one of the winning projects. We are very grateful to Advocate Europe for their support. We have raised awareness on the importance of participation in the EU Parliament election 2019. In line with our organization's vision, our focus was specifically on the participation and vote of women for the future of their children and the young generation.
As planned, the EU Parliament Topic was added as a major topic agenda in two different events and one preparation session. Furthermore, we did attend the city-wide initiative of for Pro-Europeans in Stuttgart City Center and spoke about our project awareness-raising. The Female Fellows monthly organizational meeting and the monthly community meeting with volunteers, migrant, and refugee women in Stuttgart.
The project has been able to access 37 persons in total with approximately one-hour presentation and QA session on each event.
We are very grateful to inform Individuals who have never thought of the EU Parliament election as something important.
Some Quotes:
»I have never thought of EU Parliament elections. I even did not know I could vote for the EU Parliament as well. I will vote. Although my parents are politically informed but we have never talked about the EU level«
– A 26-year-old German Lady, residing in Stuttgart
»Now I know why EU Parliament is so important. I have learned a lot today. I will also talk to my family and friends and tell them to vote«
– A 20-year-old Afghan girl, residing in Stuttgart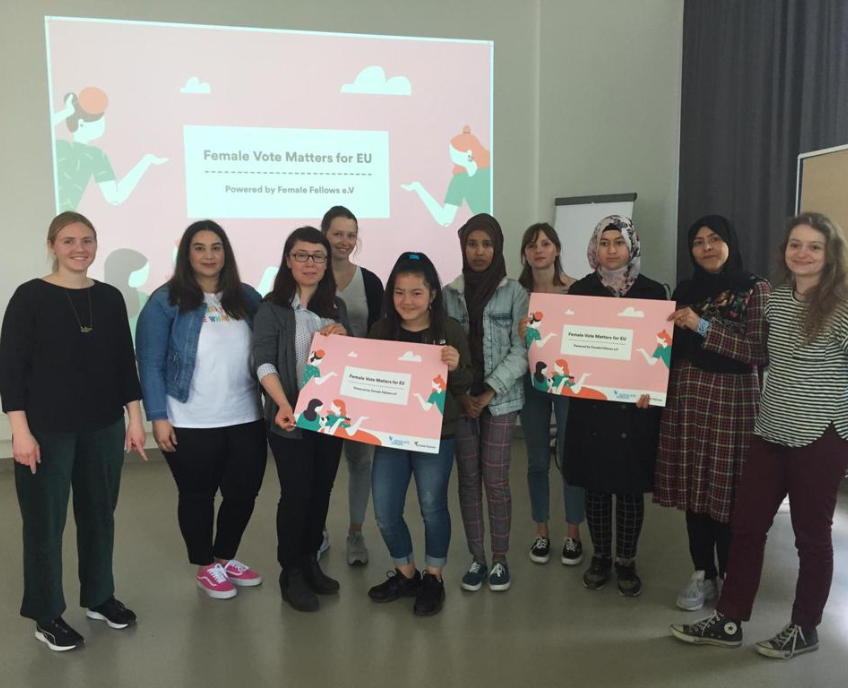 Anschrift:
Female Fellows e.V.
Mannheimer str. 29
70376 Stuttgart