Numbers of the Tandem project Bietigheim-Bissingen
We are proud that we were able to match 14 tandems (28 women) in Bietigheim-Bissingen with a 25% parttime-job within one year!
Picnicking together, an empowering self-defense course and virtual meetings in Corona times, there was something of everything!
In addition to the tandems, there were also other hard-working participants in the project who volunteered to support events or with translating.
Tandeminterview – Zousan & Sandra
OVERCOMING OBSTACLES TOGETHER
Zouzan and Sandra met at the beginning of 2020. The two were already matched in March, but were only able to meet in person in July due to the lockdown. They first met on a bike tour through Bietigheim-Bissingen to get to know their city a little better. That was one of their favourite meetings. Unfortunately, they don't see each other very often at the moment due to the Corona crisis, but they still chat with each other regularly to stay in touch.
Nazim and Ghazal are very happy that they are in contact with each other. Isi doesn't want to be without Nazim, Ghazal and Reza either, she says: "I was consciously looking to be in contact with a woman with a family from the refugee accommodation. How nice that it happened to be the Iranian Nazim! It's a mutual give and take that brings us closer together. I would like them to get to know and understand Germans and Germany. And above all from the cosmopolitan, hospitable and "curious" side. To be honest, we know a lot, but far too little about Iran and the people there.

In order for us to see each other as regularly and uncomplicated as possible and at a distance of 1.5m during the Corona crisis, we offered Nazim's family a piece of our garden. Not just so that the family has fresh vegetables. Nazim and her family can come here anytime to look after their little piece. The radishes are already growing! A short call beforehand is enough. Now let's hope that Corona will soon be over and that we can meet again like normal people, with a little hug, standing together, coffee and cake, working in the garden together and so on. The Ramadan time was a bit unusual – guests come and you shouldn't offer anything to eat or drink."
Isi also is in touch with the family's social worker and tries to support the family both with their asylum application and with their daily activities. Their contact is more than what the Female Fellows project expects.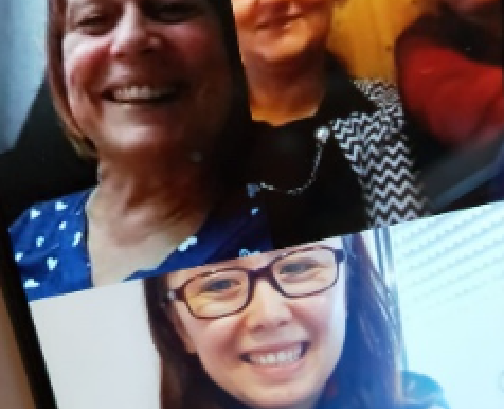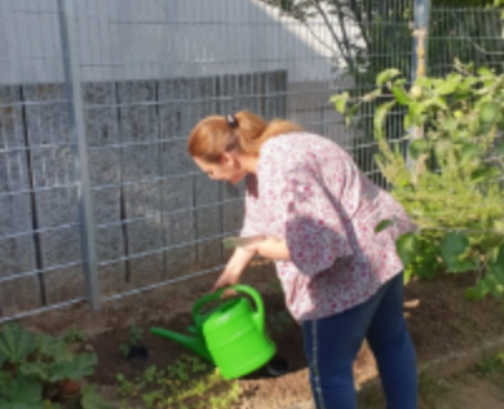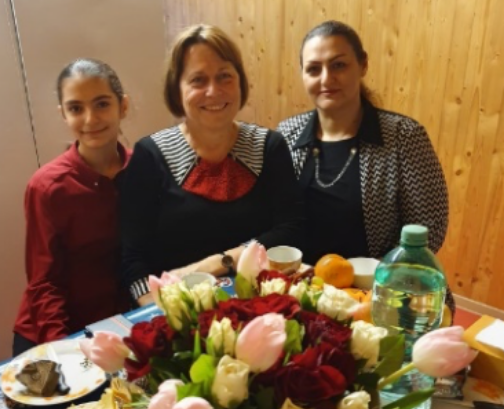 REVIEW OF EVENTS IN BIETIGHEIM-BISSINGEN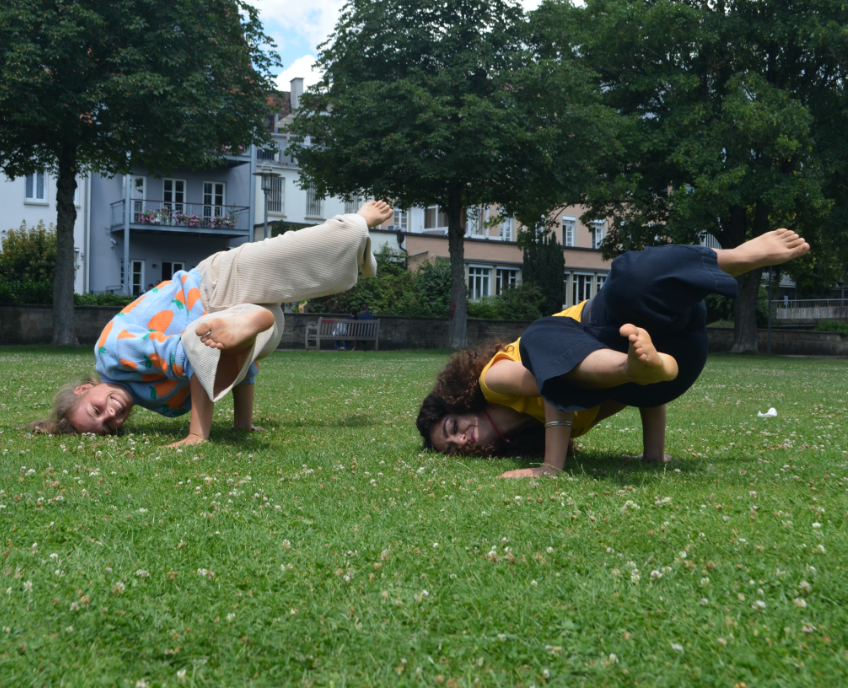 Picnic & Breakdance
Finally, after a long Corona break, we were able to meet again with our tandems for a picnic. We had a lot of fun with a little breakdance workshop, snacks and interesting conversations.
BAKE, BAKE COOKIES…
Just in time for Advent season, our tandem partners were able to diligently bake cookies together with the professionals in the bakery of Café Blatter.
SELF-DEFENCE TRAINING
We laughed a lot, sweated a little but learned so much! And we all left the workshop as stronger women. Such joint actions not only promote cultural exchange, but also weld together!
ATMOSPHERIC WELCOME-MEETING
In addition to delicacies from all over the world, we remember the indescribably beautiful voice of Ghofrane May. She enriched our meeting with her concert and touched hearts with her sounds.
Female Fellows Start in BiBi
In June 2019 we had our first kick-off event in Bietigheim-Bissingen. It was so nice how warmly our project was received in BiBi – since June Masooma is your local contact person.
YOU ARE INTERESTED
IN ORGANISING AN EVENT?
Do you have a brilliant idea for a female fellows event?
Whether handicraft workshop, theme evening or cooking courses …
Excite us with your idea and organise your event yourself:
Anschrift:
Female Fellows e.V.
Mannheimer Str. 29
70376 Stuttgart