I find it very important as a woman to encourage and empower other women to use all the opportunities we have. Together we also took part in a lot of free-time activities in Stuttgart, went to the park or the library. Through that I could experience my city again with completely different eyes and show what I appreciate about it. Female Fellows also offers a lot of nice and diverse activities for the whole community, where you can have an interesting time with other women.
I can only encourage every interested woman to use this sensible opportunity and to support other women!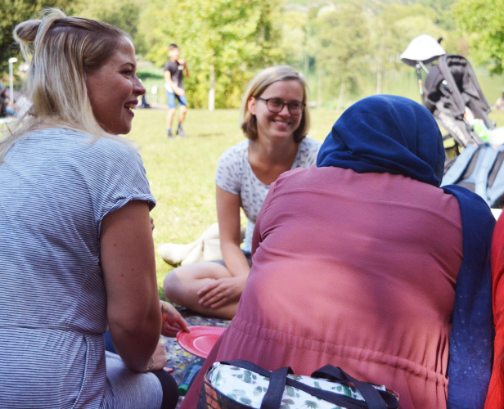 1 | What do I have to do to get a Tandem-Partner?
The first step is to register under the following link: 
Register for Stuttgart
or
Register for Bietigheim-Bissingen

.
In the next step, we will look for a suitable tandem partner for you. Therefore, we usually pay attention to the tandem partners having a similar age and, if possible, that they live close to each other. Once a tandem partner has been found, we will contact you.
2 | A Tandem-Project sounds easy, uncomplicated, and flexible in terms of time management. That would be something for me that I can easily do alongside my job. Right?
That depends on what you agreed on with your tandem partner. First and primarily, the tandem should be fun – you should look forward to the meetings. So, at the beginning agree what both of you hope for and set goals. Our recommendation is to spend an hour together once a week. If that doesn't fit into your schedule, make other appointments, that's not a problem as long as you talk about it.
3 | Am I really doing good? Does it make a difference? What are the effects of my engagement?
4 | My Tandem-Partner is not responding – What should I do?
If your partner no longer responds to your calls or messages, please let us know. We then try to find out what is going on and mediate between you. Sometimes it's because of the lack of internet in the accommodations, sometimes she doesn't dare to end the tandem. In any case, we would like to talk to you about it and give you the best possible support in your tandem.
5 | I am moving to another city – What happens to my Tandem-Partner?
Here, too, it is important that you talk about it both with your partner and with us. We will be happy to match your partner with a new tandem partner. Maybe you have a friend who would like to take on the tandem?
6 | My Tandem-Partner and I – we just don't really fit together. What should I do?
It is not bad at all if you realise after one or two meetings that it does not fit with you at all. It is only important that you talk about it. If you don't want to talk to each other about it, feel free to contact us. We would be happy to act as a mediator between both of you and – if wanted – put you back in the index of "tandem seekers". Even if you've met several times and at some point you realise that you don't really have time for meeting up with your tandem, let us know so that we can take care of your partner and match her with another woman as soon as possible.
GET TO KNOW OUR COMMUNITY
Whether it be having a picnic together, doing handicrafts, dancing, joining theme evenings, self-defense, swimming or computer courses or just simply cooking together – Visit our diverse group event every first Sunday of the month in Stuttgart or every last Friday of the month in Bietigheim-Bissingen. We are looking forward to meet you!
No free time for a tandem-partner?
You like the idea of the Tandem-Project but don't really have time for it?
Then there are two other ways how you can support us:
Anschrift:
Female Fellows e.V.
Mannheimer Str. 29
70376 Stuttgart